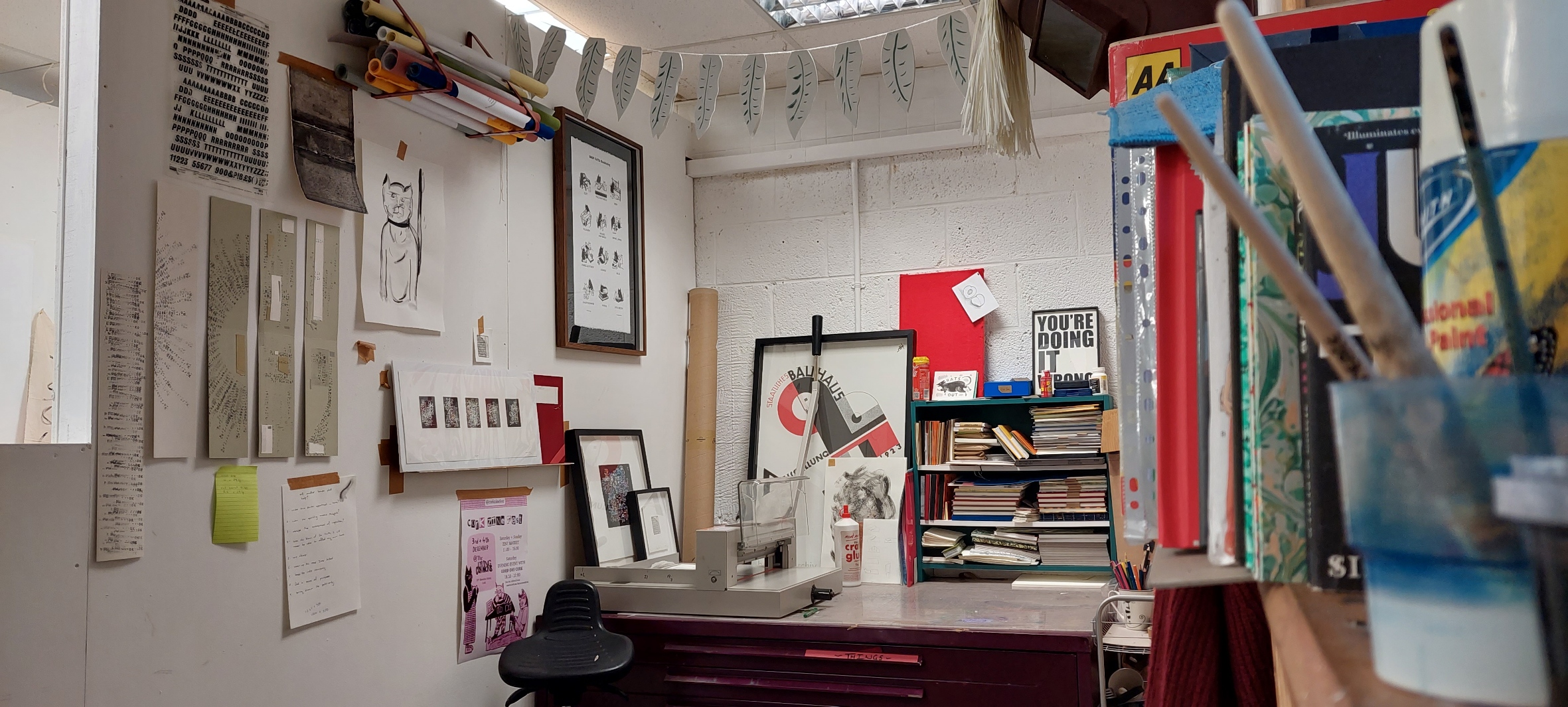 Bio. – Elize de Beer
Elize de Beer is a South African artist currently based in Cork and working from her studio at Sample Studios. She graduated from the Michaelis School of Fine Arts at the University of Cape Town, South Africa with a BAFA. The following year she achieved her honours in Curatorial Studies. With printmaking and book arts being her main mediums, she belongs to the printmaking collective "The Printing Girls" and is a member of Cork Printmakers.  She had been part of numerous exhibitions and has artworks in both private and institutional collections. Alongside her artistic practice, she has worked within various creative industries such as galleries, bookstores, printmaking studios, binderies and framing studios. At the end of 2022 she was one of the coordinators of Cork Zine Fest 2022 and in 2023 has begun working as an art workshop facilitator as part of Sample Studios Education & Outreach Programmes. De Beer is currently working towards her first solo exhibition at the Library Headquarters Gallery at the Cork County Library opening in January 2024 and at the Queens Street Studios + Gallery in Belfast opening in February 2024.
Alongside my artistic practice, I am also a collaborative bookbinder and owner of Bookward Bound Bindery. I work with various creatives, authors and artists to create one-off and short-run publications using traditional bookbinding techniques within a contemporary framework.
As a way to add a new perspective to the creative discourse within South Africa and the contemporary creative world, myself and co-host Amé Bell, founded the Chopped Liver Appreciation Society and the Chopped Liver Podcast. A platform supporting creatives and innovators following unconventional career paths in various creative industries.
Artist Statement
Elize de Beer is an artist based in Ireland, currently working from her studio in Sample Studios, Cork. Since the start of her artistic practice and during the development of her visual language, de Beer has strongly been influenced by her dyslexia, whereby written language is read as images and layered shapes. In her artwork she has explored her dyslexic experience of "reading" to better understand the disorder and for audiences to get a glimpse into her nuanced way of seeing the world.
As her practice developed, her dyslexia began to inform her methodology for creating abstract artworks. Through the use of printmaking, ink drawings, collages and artist books de Beer has intuitively experimented with the use of letters as images, layers of tones, textures and fields of colour. All with the intention of creating artworks that visually play with the readability of language, along with the intuitive joy and freedom to which abstraction lends itself.
It is through trying to understand her relationship with written language that the objectivity of books and their history became a focal point in her practice. With her background as a bookbinder and printmaker, de Beer creates non-narrative artist books that merge her fascination with bookbinding traditions, printmaking and written language.
In her current body of work de Beer is exploring the aesthetics and concepts around libraries and archives. Conceptually examining her desire to continuously consume knowledge as a form of self-protection to alleviate anxieties. In her work, she is particularly examining her own library collection acting as a pseudo-librarian. Through this body of work nature, she is always trying to bridge the gap between visual art and the craft of bookbinding. One method is using bookbinding waste material in the art-making process. These waste elements are then translated through the mediums of artist books, pop-up books and printmaking; mainly etchings, collagraphs and letterpress. Within her art-making process, she aims to use these materials and other visual signifiers of bookmaking to investigate the physicality of a book and the knowledge they hold.
Artist CV
Collections
University of Cape Town Permanent
Collection, Cape Town, South Africa.
Shaghai Group Permanent Collection, Dubai, United Arab Emirates.
The Project Space Collection, Johannesburg, South Africa.
COLLECTIVES, ORGANISATIONS AND SOCIETIES
The Printing Girls. Since 2021
Cork Printmakers. Since 2022
Sample Studios. Since 2022
press.on. Since 2023
Podcast
Events
Organiser of Cork Zine Fest. 2022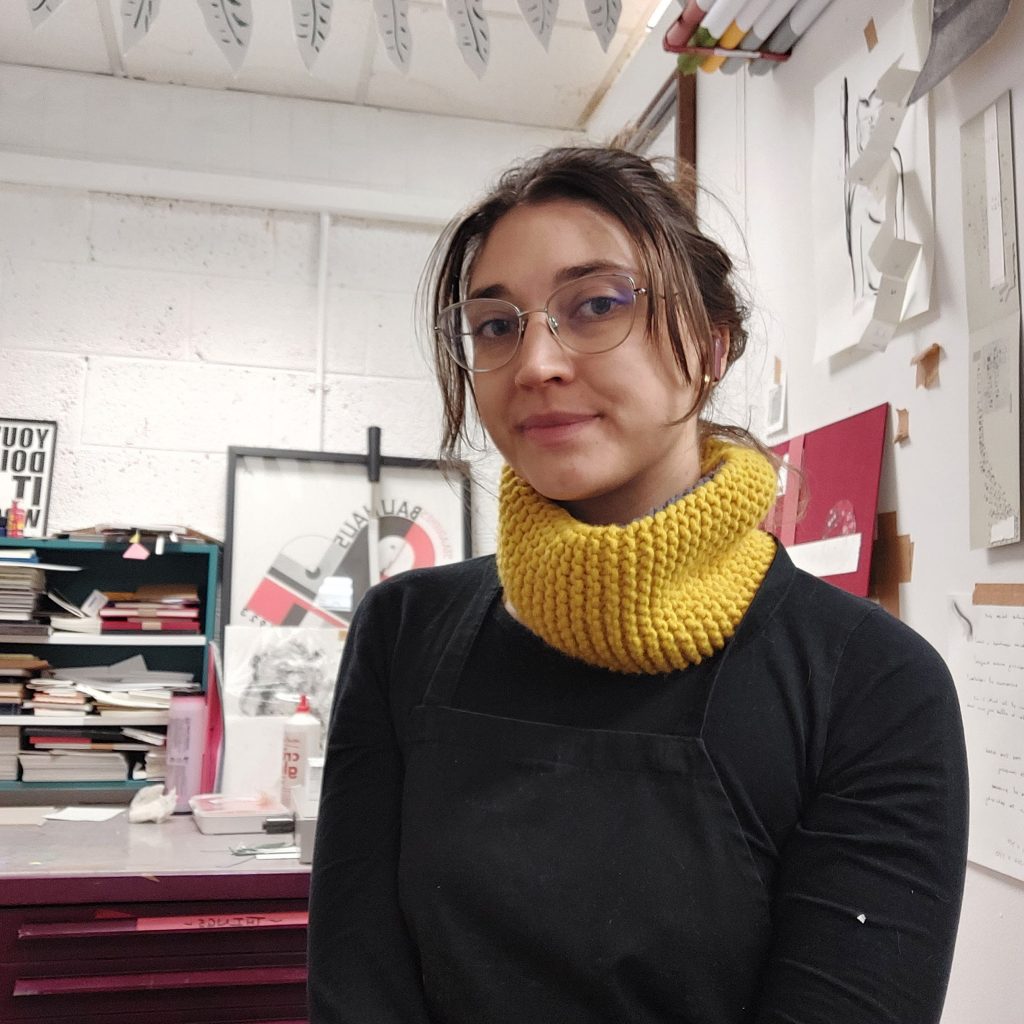 EDUCATION
Studies
BA in Fine Arts – Majoring in Printmaking
and Art Theory
Graduated in 2015 from the University of
Cape Town, Michaelis School of Fine Arts.
BA Honours – Curatorship Specialization
Graduated in 2016 from the University of
Cape Town, Michaelis School of Fine Arts
Apprenticeships
Brenthurt Library. 2019 and 2021.
Dk Conservators. 2018.
David Krut Projects. 2014.
Warren Editions. 2015.